Civil War weapons — including bullets, cannonballs and rusty swords — are among the debris pulled from the Congaree River in South Carolina during a year-long cleanup project targeting toxic coal tar on the waterway's banks.
The Civil War era haul wasn't surprising to Sean Norris, archaeological program manager at environmental consulting firm TRC. Previous underwater investigation "indicated the presence of multiple types of cannonballs and projectiles as well as hundreds, if not thousands of musket rounds," Norris told Live Science in an email. 
In fact, historical records list thousands of additional items captured from Confederate troops. "We were not certain whether those items were deposited in the river along with the ordnance," he said.
The centuries-old artifacts ended up in the river in February 1865, when Columbia, the state's capital and a strategically important railroad city, was occupied by the Union Army under the command of General William Tecumseh Sherman, who marched northward into South Carolina following his successful campaign in Savannah, Georgia.
Sherman's capture of Columbia was brief but chaotic; mobs of Confederate soldiers and townspeople plundered businesses and warehouses, fires raged, and with no army to defend it against Union forces, the mayor surrendered the town. Much of Columbia was burned to the ground, and the Union army dumped captured Confederate munitions into the Congaree River, including over a million ball cartridges, more than 26,000 pounds of gunpowder, thousands of sabres and bayonets, and even backpacks and tents.
Related: Remains of 4 Confederate soldiers, amputated legs and gold coins found at a Civil War battlefield in Virginia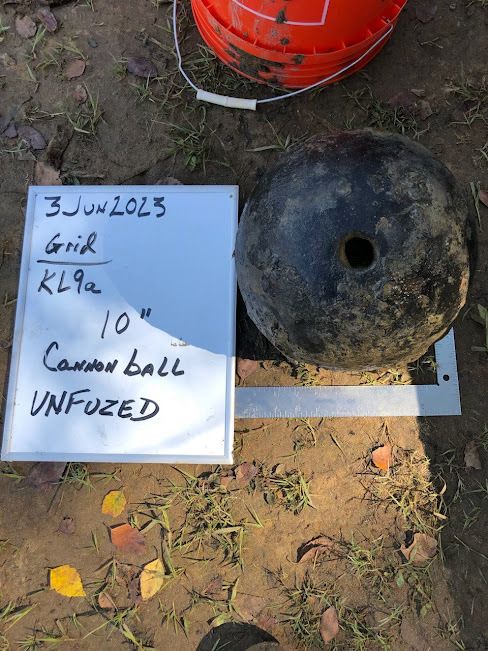 The Congaree River was a dumping ground in more recent times as well. From 1906 to the mid-1950s, a manufactured gas plant now owned by Dominion Energy, which used coal and oil to make gas for cooking and heating, created the toxic byproduct coal tar, which they dumped into the river.
"Dominion Energy has been advocating for the recovery and preservation of these artifacts since this project began over 10 years ago," Norris said, but the presence of Civil War unexploded ordnance — live ammunition — made the process challenging.
River cleanup finally started in spring 2022 and wrapped up in October of this year. Norris and his team recovered many, but not all, of the types of ordnance listed in the Civil War inventory records, in addition to Native American arrowheads and more modern trash, like car parts and appliances.
Relics associated with Sherman's destruction of Columbia that were found during cleanup include bullets, cannonballs and swords, some of which were displayed at a press conference on Nov. 13. At least one unexploded ordnance was recovered and dealt with by munitions experts at Shaw Air Force Base.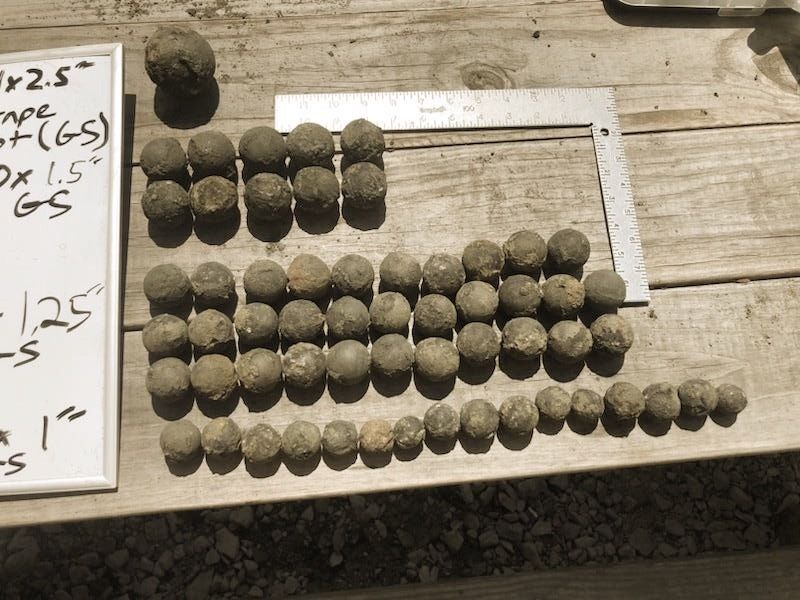 Although many of the metal objects found by archaeologists were corroded from their decades'-long stint in the river, the cleanup project has produced a wealth of artifacts that "helped to locate and isolate the extent of the Sherman Dump Site in the Congaree River," South Carolina state underwater archaeologist James Spirek told Live Science in an email. The newly discovered artifacts also "add a little more detail to the events surrounding the Union troops' disposal of the war material in the river," Spirek added.
The site of the Civil War ordnance dump is already eligible for listing in the National Register of Historic Places, but more information may be forthcoming. "We are in the final phases of screening and recovery now," Norris said.